President Trump MAGA Rally in Macon, Georgia
The president emphasized the importance of Tuesday's election right away after taking the stage and boasted about the "electricity in the air" as it approaches.
"This is one of the most important elections of our lifetime," Trump said during his introduction. "This is a very important election. I wouldn't say it's as important as 2016, but it's right up there. It's right up there. It really is. It's become so incredible, and there is electricity in the air like I haven't seen since the 2016 big victory that we all had together."
"Incredible electricity," he continued. "And in fact, speaking of that, could I ask — look at this. It's like the Academy Awards. Look at how many cameras. Could I ask you to turn around and shoot? They don't have to do this with other celebrities when they come here that don't have very big crowds. Look at the people back there. Shoot it. You've got to shoot it."
Rush Limbaugh and Sean Hannity will join President Trump at a rally on the eve of this week's midterm elections, the Trump campaign announced Sunday.
The two conservative media personalities will join Trump for a rally Monday night in Cape Girardeau, Mo.
The campaign noted in a statement that Hannity and Limbaugh are "longtime friends" of Trump and "strong advocates for the President's America First agenda."
"We're glad to welcome Cape Girardeau native Rush Limbaugh and Sean Hannity as special guests to this final stop on the tour where President Trump will make his case to the American people to support GOP candidates on Election Day in order to continue our great American comeback under his leadership," Michael Glassner, chief operating officer of the Trump campaign, said in the statement.
A spokesperson for Fox News told The Hill that Hannity will be hosting his show from the rally location and interviewing Trump, but did not indicate whether Hannity would appear on stage.
The campaign also announced that country music star Lee Greenwood will join Trump at that rally as well as a rally earlier in the evening in Chattanooga, Tenn.
Trump listed the progress Georgia had made since his inauguration and urged attendees to elect Kemp to ensure it continues.
"Jobless claims in Georgia just fell to their lowest level in 45 years," Trump said. "More Georgia workers are employed today than at any time or any point in American history. Think of that. Do you want to see that end quickly? Do you want to see Georgia prosperity end quickly? Vote for the Democrat. She'll end it quickly. She will end it quickly, and she'll double up your taxes, and a lot of bad things will happen. We passed a massive tax cut for Georgia families, and we will soon follow it up with another 10 percent tax cut for the middle-class. We're working on that now."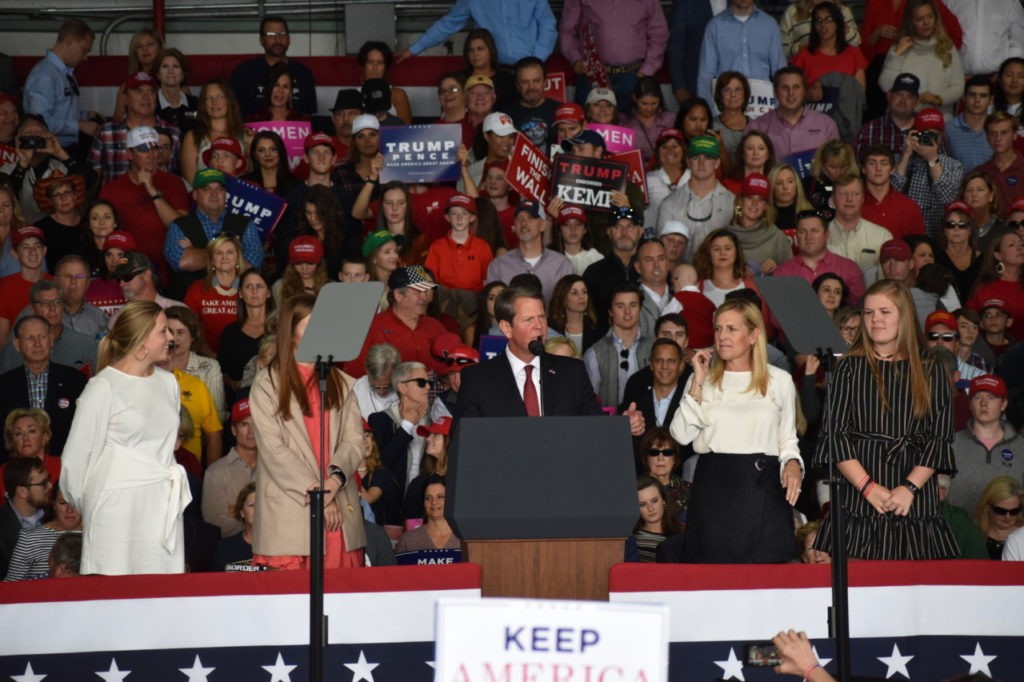 "Here in Georgia, the great news just keeps rolling in," he continued. "Jobs are going up. Crime is going down. Wages are rising, the first time in many years. You saw that in the report on Friday. Poverty is plummeting, and confidence is at an all-time high. Other than that, we're not doing very well. Under Republican leadership, Georgia is safer, Georgia is stronger, and Georgia is winning like never before. And I'll tell you what, I know Brian. He will take it to new heights, heights that you wouldn't even believe. I know him. This guy doesn't stop, which is what you want. He's an incredible manager. He's been successful all the way up and down the line. This man will bring it to heights that you wouldn't believe, even today with those great numbers."